Full automatic paper bag making machine

has successfully developed our own design, which uses printed paper with creases as raw materials and features continuous automatic paper system, positioning, indentation, paper bag tube with top folding to form interlocking devices, indentation, open bottom, bottom card paste, bottom glue and folding inline.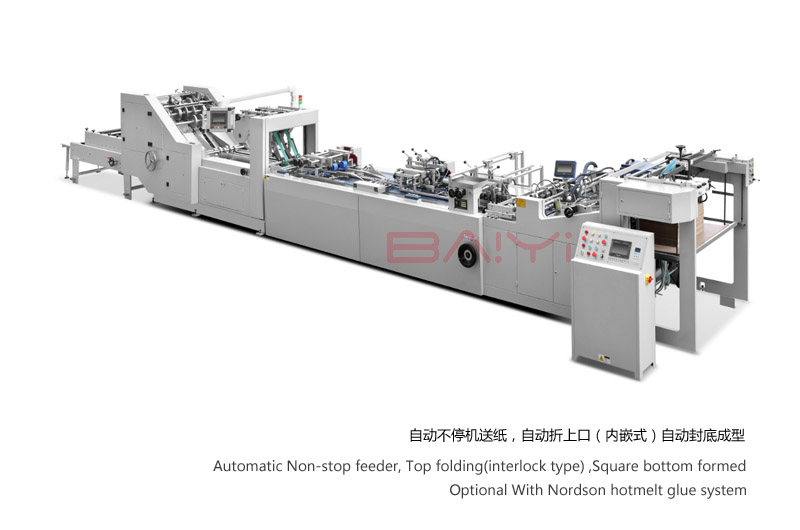 So, how to judge whether the paper bag machine is advanced or not? Let's take a look
1. Take initiative. Assume that there is an active system for diagnosis and treatment of defects. The implementation of this function can reduce the cleaning defect time and labor cost and personnel training cost, reduce some cases due to small defects and stop the operation.
2. Strong interconnection. To be able to facilitate and quickly end the communication between the single machine, so that the single paper bag machine into a whole line, but also can be convenient and quickly end the single machine or the whole line and the upper monitoring system to end the monitoring, accounting and analysis of packaging line power, power consumption and other policies.
3, safe, energy saving and environmental protection. This includes maximizing the personal safety of equipment operators and commodity consumers, minimizing power consumption as much as possible, and selecting appropriate skills to minimize the adverse environmental impact of the production process.
4, high precision, high speed and high efficiency, production. The paper bag machine can not only operate at high speed and stably, but also reduce the time of abnormal production as much as possible, which is the most direct way to travel power.
5. Increased flexibility. Only the use of single data, as long as the same packaging machine for a brief operation, can change the type of packaged goods and packaging methods. This function is very useful for small quantities and a variety of market needs.
For more information about the use of the paper bag machine, please click:www.baiyimachinery.com