Paper bags are not only very convenient to carry, but also can be used for storage of items, its wide range of use, which has promoted the development of paper bag machine,
paper bag machine
can be very good for the production of paper bags.
Today, the printing specialist informed you that the
Sheet Feeding Square Bottom Paper Bag Making Machine
prints hand-carried paper bags and should do so.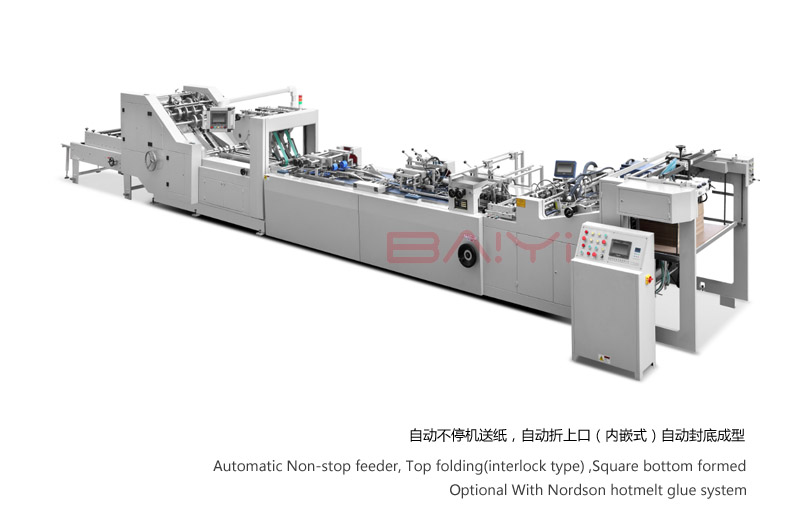 Sheet Feeding Squar

e Bottom Paper Bag Making Machine
Commonly used paper for bag printing
1. The paper used for handbag printing is more than 157g/㎡,200g/㎡ coated paper, in addition, 120g/㎡ and 140g/㎡ white or yellow kraft paper is also compared throughout.
If the bags need to be loaded with heavy goods, 300g/㎡ coated paper or 300g/㎡ above paperboard can also be selected. And to further strengthen the strength of the bag, can be based on the demand for plastic mulch, contact bag planning, covering a layer of light or matte film, more delicate handbag.
2. Due to its strong tenacity and environmental protection, white kraft paper has been increasingly used in the printing and manufacturing of handbags.
3. Coated paper has a strong color expressive force, so the design styles of tote bags could be distinctive. And from the point of view of printing technology, all the modern printing technology can be represented on a small handbag.

Sheet Feeding Square Bottom Paper Bag Making Machine
paper bag planning
Planning handbag, the primary energy may be put on how to make handbag planning special, printing exquisite, can leave a deep impression on people, but now, can be repeatedly used, environmental protection function and other features are also in the planner's point of consideration.
Company handbags planning often requires concise and easy, handbags in the process of planning to print the front usually give priority to with company logo and company name, perhaps with the company's business philosophy, shouldn't plan too messy, can deepen the consumer on the company or product image, obtain good propaganda effect, handbags printing for extension planning to sell, establish famous brand, the desire to buy influence competitiveness has very big effect.
More about Sheet Feeding Square Bottom Paper Bag Making Machine, the next update.